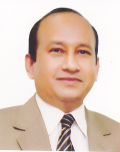 A.K.M. Shaheed Reza (Chairman)
Bangla Radio 95.2 FM is one of the concern of Reza Group, represented byMr. A.K.M. Shaheed Reza.. He is a leading business personality and an industrialist. After completion of his Post Graduation Degree in Management Mr. Reza started his career as a banker in 1986. He served in the bank for about seven years. Thereafter he quitted bank service and started his journey as an entrepreneur in1993.
Within a couple of years he made commendable progress and succeeded in launching upon new ventures one after another. More than last two decades of his career he has concentrated his efforts mainly for textile and apparels industries. So far he has established as much as seven textile and apparel industries under the banner of Reza Group which have covered long range of textile. He is the chairman of Reza Group.
Mr. Reza is not only engaged in textile industries but also actively associated with Bank, Insurance, Stock market, Credit Rating, Newspaper etc. He is the Vice Chairman of Mercantile Bank Limited and Chairman of Mercantile securities Limited. He was also the Chairman of Global Insurance Limited. He was an elected Director of FBCCI (The Federation of Bangladesh Chambers of Commerce & Industry). Recently Ministry of Commerce of Govt. of Bangladesh Awarded Mr. Reza as CIP.
Mr. A.K.M. Shaheed Reza is moreover associated with many other educational and social institutions. He is the chairman of Managing Committee ,Dholia High School, Bagerhat High School and Thakurhat Govt. Primary School, Feni. He is also the founder of ProgatiBalikaBiddaNikaton&NurulRownak Diabetics Center, Rajnagor, Feni (An outdoor clinic for the diabetic patients manage by Feni Diabetic Association). He is a life member of Diabetic association and Heart Foundation Feni and Trusty of Feni University. He has also membership in the elite clubs like Army Golf Club, Uttara Model Club and Legend Club Limited.
For more details please visit www.rezagroup-bd.com